SLATE MEMORIAL LIBRARY
Library Director: Jocelyn Castro-Santos
Trustees:
Megan Bathory-Peeler, Chair, 413-498-0103
Anna Hendricks
Tara Savoie
Address: 332 Main Road, Gill, MA 01354-9758
Library phone: 413-863-2591
Library fax: 413-863-7775
LIBRARY HOURS:
Tuesday 2 -6 pm
Wednesday 3:30 - 7:30
Thursday 2- 8 pm
Satruday 10 -2 pm
---

A close-up of the 100th Birthday Cake made by Cliff Hatch.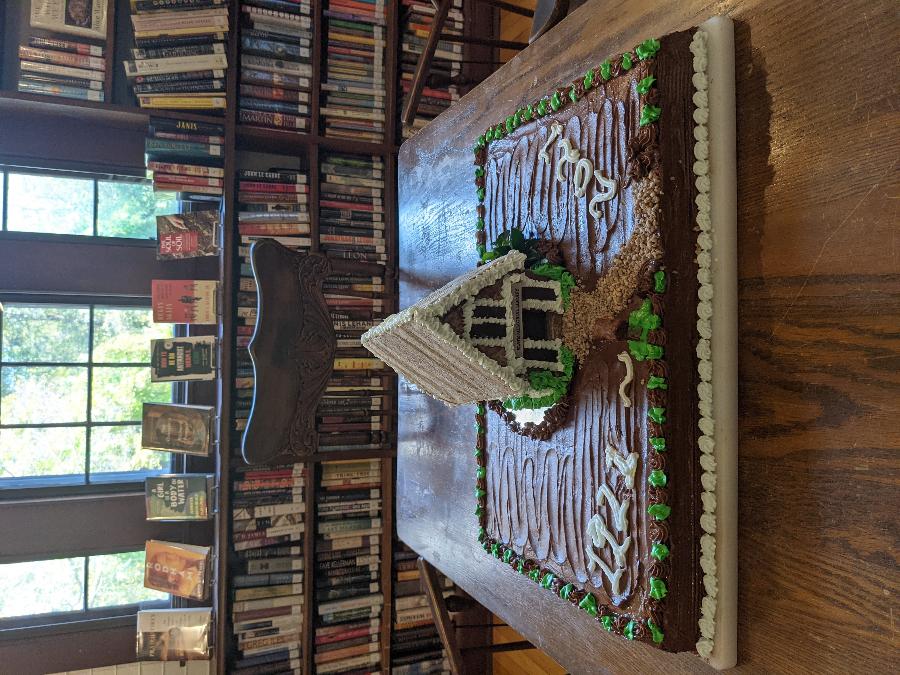 The entire birthday cake for the September 26th celebration.
---
Slate Memorial Library Fall Events 2021
Thursday, October 14 @ 6-8 pm - Braided-in Rug Making Workshop with Kathryn Greenwood Swanson
Learn to make durable machine-washable rugs from old fabrics in this 2-hour
class! Braided-in Rugs are made with a new technique where the rug is built
into itself as you go. This lends itself well to using waste fabrics such as old
bedsheets.. Students need: two contrasting fabrics, about three yards each
(bedsheets work well), scissors, a needle, and thread. Materials are provided,
but you can bring fabrics of your own if you like.
Saturday, October 30 @ 4 pm - A Halloween Celebration for Kids!!
Wear your costumes! Live-action story time! Cider and donuts. Dig for bones in the sandbox. Story Walk installation! Fun activities for everyone!!
Saturday, November 13 @ 1 pm - Local Gill History
Lynn Stowe Tomb & Pam Shoemaker will talk about & sign their two books
about Gill history - Riverside: Life Along the Connecticut in Gill, Massachusetts and Jennie Williams Bardwell: Life in Gill 1860-1950.
Saturday, November 20 @ 12 pm - Felt Snowflake Ornaments
Come play with felt and embroidery floss and create a one-of-a-kind ornament for the holiday season. All materials provided - just bring your nimble fingers and creative ideas!
Saturday, December 4 @ 10 am - 2 pm Holiday Card Making!
Beautiful paper and art materials. Come craft a special card forsomeone this holiday season. - all ages, coffee and treats.