ARCHIVES-January 1873 Munn Diary
Return to Historical Commission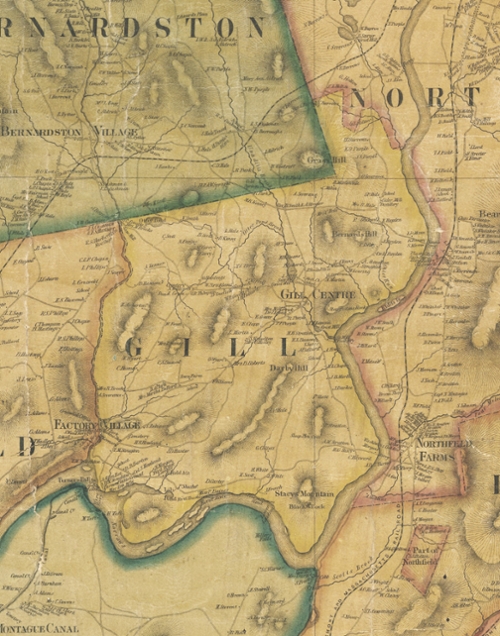 1858 Map of Gill
Gill 130 Years Ago According to Local Diary
Do you wonder what life was like for one of our residents in Gill 130 years ago? Here's a peak into Chandler Munn's diary entries in January 1873. His handwriting wasn't always easy to transcribe, but our GHC members gave it a try!
His entries include reminiscing of 1872 ending with pleasant memories of the old year, going to singing school and writing sheet music for someone in Chicago, an Aunt sewing a new dress with "pea green" fabric, pleasant and warm weather for the beginning of January but a cold snap with temperatures 32 degrees below zero (hmmmm?) at the end of the month. Interesting to see what he felt was worthy of noting in his diaries.
Chandler S. Munn Gill, Massachusetts
Pocket Diary of 1873 - Given to Harriet Tidd for the Gill Historical Commission.
Transcribed by Pamela L. Shoemaker, July 2008 and 2011.
Chandler Severance Munn was the son of Lorenzo Patrick and first wife Ruth (Severance) Munn and the grandfather of Frances Munn. He was born in Gill on 31 July 1846 and died there on 24 January 1913. On 4 July 1876 (a centennial event!) in Brattleboro, VT, Chandler married Ellen Augusta "Nellie" Moore, born in Warwick, MA, on 17 June 1855, the daughter of Timothy and Fanny (Sheperdson) Moore; she died in Gill on 27 or 28 July 1936 or 1938. Their children were Lewis C. and Lucy Sophia. Lewis Chandler Munn married Lena Foster, and their children were Frances E. Munn, b. 12 July 1905, and Dorothy F. Munn, b. 18 March, 1917 (?) and died September 6, 1917. Chandler's father, Lorenzo P. Munn always lived on the old Munn Homestead in Gill. During his minority he assisted in carrying on the farm and running the ferry across the Connecticut River. Chandler lived at the Homestead and farmed with his father.
Wednesday, January 1, 1873
Cloudy. We gave Bro Miller a donation of $20 in money & 20 in provision. Some 50 persons present
Thursday 2
Cold, below 0. Striped (sic) tobacco in the kitchen. There is some two feet of snow in the grounds.
Friday 3
Very cold. Striped tobacco. Sold it for 20 + 5. last month to Edward Janes of Greenfield
Saturday, January 4
Pleasant weather. Have had a lazy day. Last Tuesday evening we had a pleasant surprise by our neighbors to the number of 38.
Sunday 5
Cloudy. Did not go to meeting. ?uman Slate, Hendrick and Mother called here in the evening.
Monday 6
Cool. I went to mill PM and got a large load of meal. We went up to Chester Delvys in the evening. Mr. Hosley and wife and Eva were there. Charles Munn is sick with Pleurisis.
[Charles S. Munn was born on 26 May 1844 and married Sarah Ripley; they had three children: Grace J., Frank L. and Mary S. He owned and occupied a portion of the Homestead Farm.]
Tuesday, January 7
Cold. We had a surprise visit from our friends and neighbors in commeration (sic) of the wedding of S.P. and bride.
Wednesday 8
Cold. The old year has gone, and it has been full of pleasant memories. We have great reason to praise God for all his mercies.
Thursday 9
Cold. We striped tobacco in our kitchen and had a nice time. Sister Sarah is in Florence now in Mr. Porter's boarding house.
[Chandler's sister, Sarah R., was born in Gill on 24 March and later lived in Florence, Hampshire County. She never married and died in Florence at a young age according to family historical notes. ]
Friday, January 10
Cold, 21 degrees. We striped tobacco, finished it. I went down to singing school.
Saturday 11
Cold. Did not break the World into, But Mr. Hosmer did give up his old Folk concert.
Sunday 12
Cold. Stayed at home. Wrote some sheet music for Mary Hill of Chicago and mailed it Tuesday at Greenfield.
"There's sweet rest in heaven."
[Lorenzo Munn's sister Lucretia Patience (Aunt Lu) (1818-1900) married Uri Tracy (1818-1854); their daughter Mary Elizabeth (1848-1942) married David K. Hill of Chicago. They had three sons: Arthur, James, Paul. David Hill and a Willoughby, who was related to the Munns by marriage, owned a large department store in Chicago. Later in this diary Aunt Lu goes west to Chicago with Chandler S. Munn. She seems then to have lived in Chicago, appearing there in the census for 1880 and dying there on 22 March 1900.]
Monday 13
Cold, Aunt Lu worked on her new dress, "Pea Green" that Luther and Mary sent her with a new Astrachan Cloak.
Tuesday 14
Warm and Pleasant We killed a beef creature for Geo & Chester Delvy at 8 cents a pound. Wt 558 L.B.S.
Wednesday 15
Cloudy & Snowy. Mr Jones (Janes?) came up and "strip" Boxed Charlies tobacco. I kneed it. We had 5 Boxes. Father went to Bernardston and bought a pair of yearlings for $50.
Thursday, January 16
Warm, Misty. Cut up tobacco stalks. Sewed my shirt on the Machine. We boxed our tobacco wrappers to night.
Friday 17
Thaws very fast. Finished boxing tobacco to day. Went to singing school. Hendrick Slate is teaching school here.
Saturday 18
Cloud, and Hails
Father and Nelson drew our tobacco and Charlies to Bernardston and got the money6. Our tobacco Weighed 3421 LBS. price $530.35 Bought and got home a pair of yearling stears (sic) of Prestin (Prentice?) Slate $50
[Nelson was probably Nelson Burrows.]
Thursday, January 16
Warm, Misty. Cut up tobacco stalks. Sewed my shirt on the Machine. We boxed our tobacco wrappers to night.
Sunday, January 19
Warm & Pleasant Mother and I did not go to meeting to day. Hendrick came down here in evening.
Monday 20
Cloudy, looks snowy. Father went over to the turn out and drew a load of ashes for Chester Delvy. Sylas Scott sent 3 cows over here for keeping.
Tuesday 21
Snowy. Father and I went to Greenfield and got 38 Bushels of ashes of Mrs Reed
Wednesday, January 22
Cool, Pleasant. We went down to Bro Martins & striped tobacco and got our carpet for my room Aunt Lu & I went to Abels?t?s prayer meeting
Thursday 23
Cloudy PM. Aunt & I went up to Roswell Holtons down to singing in the evening. Father and Mother put down carpet.
Friday 24
A dark cold no E. Snow storm all day. I finished my shirts and sewed on Grandpas pants. Churned Have 17 head of cattle & 6 horses
Saturday, January 25
Pleasant sharp air. Had letter for Mary Hill. Pierce (?) came and brought over a colt for us to keep. We went visiting to Aunt Mary's.
Sunday 26
Pleasant day, 4 deg. Below 0. Went down to Cong. Heard Bro. Frost From Rom 2-10 A most excelent (sic) discussion. Henry and I went to prayer meeting. Father and Aunt Lu and mother went up to Uncle Harrys.
Monday 27
Another NoEast Snow
Father went to Northfield with 10 1/2 bu wheat for bread. We have papered Grandpas room and made and put down the carpet, looks very cosy.
Tuesday, January 28
Pleasant. 7 below 0. Special Town meeting for a new bridge at the Turners Falls. Instructed a committee to report the payment of 1/3 expenses
Wednesday 29
Pleasant cold Father went to Northfield and got his wheat grist, and bough 7 head cattle. Chester Delvy and his wife are sick. ?phalis
Thursday 30
The Mercury was 32 degrees below zero. The coldest that I ever remember. Our folks went down to Bro. Haywards to a sewing Society. Went to singing school in the evening.
Friday, January 31
Mercury 6 below 0. I went to mill and got a grist of 9 bu corn. Father went to Greenfield and got Mother some new parlor chairs. We expect pigs 16 weeks from the 1st and 31 of January.