Maple Sugaring - A New England Tradition.
Return to Historical Commission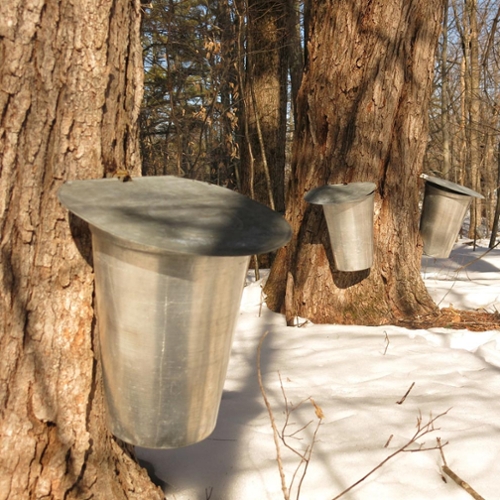 Probably the most famous Maple tree in Gill would be the one found at the entrance of North Cemetery on Main Road. Former Gill resident Sophia Margola writes "The sugar maple at North Cemetery is a local legend—a miracle, actually. It's lived through nearly four centuries, all of which presented their own battles. The first techniques of tapping maples were detrimental to the tree's health, so this one is lucky to be standing today."
Fresh maple syrup poured over steaming hot, buttery pancakes, with a side of bacon or sausage - and a dill pickle or two is a Frankin County favorite. And don't forget the sugar-on-snow! Each spring as we anxiously await the pussywillows and buds on the trees, we look forward to the "Sugar-Shacks" dotted across the county boiling down the sweet smelling maple sap. According to the Massachusetts Maple Producers Association (MMPA), more than 300 Massachusetts maple producers - most located west of Worcester – annually produce about 50,000 – 60,000 gallons of maple syrup each spring.
History. The MMPA research supports that maple sugaring was not new to Massachusetts when the Pilgrims landed at Plymouth Rock in 1620. The Native Americans had been making sugar from the sweet sap of the maple tree for many years. From the journals of early explorers we know that the Native Americans had a process for making maple sugar as early as 1609. There are many Native American legends about how maple sugar was first discovered. One Iroquois legend tells how Chief Woksis had thrown his tomahawk into a maple tree one late winter evening. After he removed it the following morning, the weather turned sunny and warm. Sap began to flow from the cut in the tree, and drip down into a container at the base of the tree. The sap was used to boil the meat for dinner. As the water in the sap boiled away, a wonderful, sweet maple taste was left with the meat.
Most likely the Native Americans discovered the sweetness of the maple tree by eating "sapsicles," the icicles of frozen maple sap that form from the end of a broken twig in winter time. As the ice forms, some of the water evaporates, leaving a sweet treat hanging from the tree.
Native American Maple Sugar Production. As winter started to turn into spring, and the days got longer and warmer, Native Americans would move their whole families into a spot in the forest where there were plentiful sugar maple trees. There they would establish "sugar camps" for the month or so that the maple sap would flow. The most common early method of collecting this sweet sap was to make V-shaped slashes in the tree trunk, and collect the sap in a vessel of some sort. Not having metal pots in which to boil the sap, the Native Americans boiled away the water from their sap by dropping hot rocks in the containers made of hollowed out logs, birch bark, or clay.
In the early days, maple sap was boiled down and made into maple sugar instead of the more common maple syrup that we see today. There was no easy way to store syrup as a liquid, but hardened, dry maple sugar was easily stored for use later in the year. The Native Americans of New England used their maple sugar as gifts, for trading, to mix with grains and berries and bear fat. During the heat of summer a special treat was a drink made of maple sugar dissolved in water.
Maple Sugaring and the Early Settlers. The early European settlers who came to New England made maple sugar in the way that they learned from the Native American population. However, as early as 1790 it was suggested that slashing the trees was not good for their health, and that a better way was to drill a half inch hole in the tree and insert a "spile" to allow the sap to run out. The se spiles were made of a softwood twig such as sumac that had a soft center. The center was pushed out leaving a hollow wooden tube that could be inserted into a hole drilled into the maple tree. The sap would then drip out through this hollow tube and into a collection vessel such as a hollowed out log.
These early "sugar-makers" gathered their sap in wooden buckets as they went from tree to tree. The sap was then boiled down in a series of large iron kettles hanging over a long open fire. As the syrup got thicker in one kettle it was ladled into the next one and fresh sap was then added to the first kettle. In this way, they always had the last kettle full of nearly completed syrup or sugar. When it was finally thickened enough, the liquid sugar was stirred until it began to crystallize, then poured of into wooden molds. These blocks of maple sugar could be broken up or shaved later in the year when needed.
This sweet product of the New England forests was very important to the colonists of early Massachusetts. In addition to providing a homemade source of sugar, the maple sugar was also used for income or trade. This was valuable to the early settlers as it provided some income or could be traded at local stores for other food and supplies. Our third president, Thomas Jefferson, was so much in favor of the United States producing its own maple sugar that he even started a plantation of sugar maples at his home, Monticello.
Changes in Maple Syrup Production. Throughout the next hundred years or so, maple sugar producing went through many changes. Wooden "Sugarhouses" popped up all over the state to boil the maple sap liquid down into a thick, delicious syrup. Even today, the process still involves an incredible amount of time and labor taking 40-gallons of sap to make just one gallon of Maple Syrup.
1875: Introduction of metal sap buckets and metal spouts replaced the wooden ones.
1890's: Sheet metal gathering tanks made their formal appearance replacing wooden ones
1916: Metal sap-gathering tubing invented in New York, however proved impractical and prone to freezing at night, leakage, and vulnerable to damage by deer.
1997: Changes in sap tubing technology offer "permanent" tubing which can be left in the woods year-round without stretching
Sophia continues sharing her thoughts a little closer to home ... "Maple trees have always been very popular in cemeteries, parks and gardens in the northeast. Once planted, the sugar maple grows quite quickly, at a rate of almost two feet per year. For a maple to be tapped, it has to be about forty years old, so any tree providing its sap has been seen quite a bit of the world. One unsurprising reason the maple was so popular in public places is due to its electric fall foliage display—a sight for sore eyes. The transition from green to orange to yellow is a lovely sight and gives an aesthetic relief to the solemn mood of a cemetery. In general, the presence of any trees in parks held significant value. Sugar maples are a vision of the pastoral—for me, they're synonymous with that half gallon of sweet syrup—the one filled with happy memories of Sunday breakfasts with my family. They're the symbol of leisure after labor. The long weeks of sugaring are followed by moments spent surrounded by family. Being as old as the North Cemetery Maple is, this tree has undoubtedly endured harmful tapping at some point in its life. I'm sure it was once a powerhouse sap producer—maybe it was a supplier of sap to boil venison in. Or maybe, Samuel and Sarah Stoughton resting eternally, living out its final years. It stands stoically yet tired and is starting to show its age. Tapping it at this point would be disrespectful.
In the late summer evenings, its expansive canopy casts a shadow across the length of the cemetery. In the fall, it turns bright orange, releasing its leaves all across the marble, slate and granite headstones. In the winter, it gives the appearance that it has died. It stands bare, enduring the hard-New England snow and piercing cold. It manages to come back to life each spring, reborn with each ounce of its being.
I can't help but feel thankful for this tree. I thank whoever planted. I thank it for its service. I thank it for once providing smiles in the family homes of Gill residents, and I thank it for providing shelter for the birds, squirrels and the occasional possum. Above all, I thank this tree for watching over my father. Together, they can rest after giving so much to the world. The lessons I learned from my father and the memories I created with him will remain with me forever. As for my sugar maple—it too, has been the creator of connections and memories. Now, they indulge in the wonders of nature as one. The fresh New England air, the rich soil, and crisp winter snow. I visit them often, and fondly...."
(Many thanks to Sophie Margola for sharing her memories!)